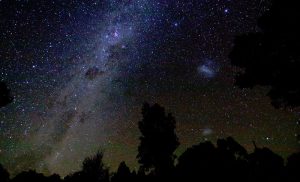 Hush, the babies are sleeping, the farmers, the fishers, the tradesmen and pensioners, cobbler, schoolteacher, postman and publican, the undertaker and the fancy woman, drunkard, dressmaker, preacher, policeman … And the anthracite statues of the horses sleep in the fields, and the cows in the byres, and the dogs in the wet-nosed yards; and the cats nap in the slant corners or lope sly, streaking and needling, on the one cloud of the roofs.
You can hear the dew falling, and the hushed town breathing.
Only your eyes are unclosed to see the black and folded town fast, and slow, asleep.
Dylan Thomas could have written the opening of Under Milkwood for me, prowling around the house at two, three, four o'clock in the morning, while the gentlefolk—and stock, and pets—of Quaama village slumber on. Or maybe not the cats. I hear them prowling too, and yowling their territorial warnings.