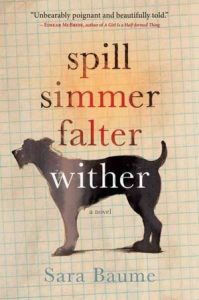 Dear Sara Baume,
When I heard about Spill Simmer Falter Wither I thought, lovely, a book I'll enjoy, then lend to all my dog-loving friends.
It's not a long book. I finished it, breathed for a while, and went to scratch the heads of my own two dogs—both reprobates. The larger one has gained notoriety as the local chook killer and must now be kept on the lead at all times when off the property. Lucky it was only chooks, I guess. The other one, a terrier of some sort, once returned exhilarated from a run in the bush, snout and bib drenched in blood. We had to rinse him off at the tap in the cemetery before we could walk him back through the village.
I had started Spill Simmer Falter Wither with an air of optimism: two misfits find companionship and redemption etc etc—but soon started to wonder, for Ray and One-Eye, what a happy ending could possibly look like. Your prose kept me going, the lilt, the detail, the rhythm reminding me of Dylan Thomas. And I trusted you. On and on I read, less and less book left, and I started to lower my expectations. Soon, just a satisfying ending would be enough. And you did it, you did it.
But, you know, I can't think of a single dog-loving friend I can lend this book to. It's no reflection on your beautiful writing, your mastery of plot, your brilliant characterisation. It's just that a little piece of my heart broke off at the end, and I don't know if I want to be held responsible for that in another.
I might donate it, anonymously, to the local second-hand bookshop and leave it to fate.
With thanks, Jen Severn
Care to comment? See below.