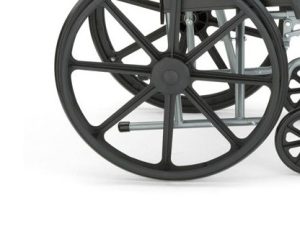 I was listening to a podcast of Richard Fidler interviewing Tim Ferguson the other day. You may remember Ferguson as one of the Doug Anthony Allstars. Long and lanky with a sweep of black hair across his brow, he was often referred to as 'the good-looking one'—so he says, anyway. Fidler was an Allstar too, and that moody, misanthropic genius Paul McDermott was the third.
I've been watching Ferguson's career a lot more closely since I learned he had MS. I bought his memoir, Carry a Big Stick (2013), and it was good to read about someone just getting on with it, despite. Lately he's written and directed a movie.
So I was brought up short when I heard him say, 'I get around in a wheelchair now, because I'm just too slow when I walk around'. Hang on, I thought, what about 'use it or lose it'? But I had to admit that it just sounded so sensible. There are days, bad ones, when I catch myself staring wistfully at wheelchairs—the end of effort, the end of leg pain. The end of people's panicked glances as I teeter past them.
Ferguson's words made me realise how hard I am on myself. Always have been. Ten years ago I delayed getting a stick until I was almost falling over. This year, finally, I got myself a walker for those times that I'm out without the Mechanic's steady arm to hold onto. The stick just wasn't giving me the confidence it used to—I needed something more stable to lean on. Now I admit that I could have used the walker a while back. Having my own dedicated seat wherever I go is just a bonus.
But why the reluctance? Well, I'm beginning to realise that every time my condition has progressed I've blamed myself. Where did I go wrong? Wasn't I trying hard enough? And acquiring the next level mobility aid was a public concession to that personal failure.
I won't be rushing out to the wheelchair shop just yet, but now there's an opening where there was once a firmly closed door. It's not failure, I tell myself. It's self-respect, and compassion for this body and what it's going through. Really, it just feels sensible.
Care to comment? See below.