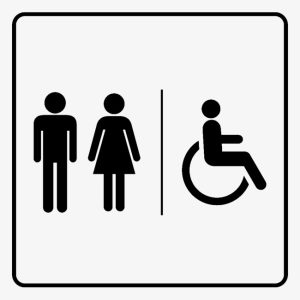 Goulburn Shopping Centre, 11 am last Tuesday. I'm waiting for someone to vacate the disabled toilet. I see a dim form approach the frosted glass door and as it slides open my suspicions are confirmed: an able-bodied person.
As he steps out he looks down at me (I'm on my small electric scooter), says, 'Sorry!' and starts to move away down the corridor.
'Wait,' I say. 'Did you really need the disabled toilet?'
He looks a bit wary. 'Yep, the Gents was full. I couldn't wait.'
He's middle-aged, quite short and bow-legged, with a number-four-all-over haircut and one of those little, trim moustaches. I should have let it go. But I'd been discussing this recently with my friend JB, able-bodied people using disabled toilets with no apparent reason. I admitted to JB that I usually just rolled my eyes but JB told me she looks them up and down and says, 'Really?'
I sit up straight and raise an eyebrow. 'So you thought you'd make me wait instead, did you?'
He pauses, then comes back and leans over me, his index finger in my face.
'Oi. Do you have a disabled parking permit?'
'Yes …'
'And do you sometimes park in non-disabled spaces?'
'Yes, of course …' Where's this going?
He was triumphant. 'So there you go! You buggers park in our spaces, we use your toilet. Same thing!'
Our spaces. Our spaces?
'Well, mate,' I said, 'You never know your luck. You might be in a head-on on the highway tomorrow, end up a quadriplegic, then you can use our parking spaces and our toilets. Have a good life!' And I glided into the toilet, the door sliding closed behind me.
No, of course I didn't say that. But I wish I had. He was still between me and the door so I mumbled something inane and he stomped off, swearing.
Our spaces. I'm imagining 'Them', Team Able, Rest-of-World if you like, facing off against 'Us' on our walkers, scooters and wheelchairs. And we're vastly outnumbered. When did it become about Us and Them?